Single Screw Reciprocating Extruder (PCS 46)
Business Type
Manufacturer, Supplier
Type
Single Screw Extruders
Certification
CE Certified
Application
Industrial
Click to view more
Product Details
Specifications

View
Relying on our know-how in the industry gained over years, we, as a Manufacturer and Supplier of Single Screw Reciprocating Extruder (PCS 46) have put us in the top band of the industry. It can be easily cleaned in a short time span. Our customers can also save their costs as it consumes less heat and power. It also takes lesser time and energy in case of a power failure.
Advantages
No need of additional lab extruder for product development, shade / color matching, RM testing
Easy & fast cleaning due to short length, easy & fast cooling due to water heating system
Wide range of products can be produced on single screw extruder - like PU, PTFE, low curing, etc.
Running cost is low as compared with Twin Screw - Low Power, Low heating cost
Small batches can be easily possible
Thorough cleaning is possible in small time span.
Consistence product Quality possible due precise Temp Control, no problem of jamming, no problem of product deletion
Low maintenance cost as compared with Twin Screw
Modular design of Screw Elements to felicitate the change in kneading / feeding lengths
Thru Cooling Shaft - ensures the controlled process temp. / easy cleaning of screw & avoiding deletion in the barrel.
process length is much less than the Twin Screw extruder, ensures less residence time for product.
machine is easy to operate
If power failure occurs - takes less time / less energy for restart
Due close loop heating cooling system - load on chilling gets reduced drastically

Disadvantages
Fine processing is limited to certain extent ( in case of rejection processing)
requires extra care to be taken
Spares cost is high ( but / kg cost is low as compared with twin)
Thorough Cleaning is time consuming / you may need to keep spare set of Screw Shaft
Graph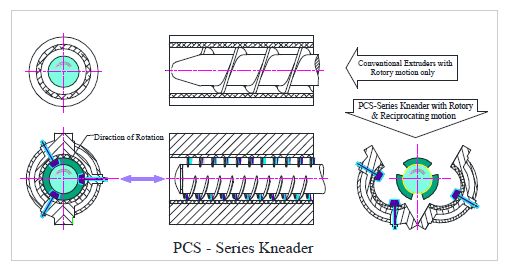 Looking for "
Single Screw Reciprocating Extruder (PCS 46)

" ?